To say that UNC Chapel Hill faculty salaries have not kept pace with peers over the past 10 years is quite the understatement. The accompanying graph paints a picture of not just an an ever-widening pay gap relative to peer schools, but an inflation adjusted pay cut. This is concerning and unacceptable. The recently announced pay increases will not fix the problem and this pay gap versus peers is not limited to full-time professors at UNC-Chapel Hill.
How did this happen over 10 years without someone raising the alarm or doing something about it? The lack of visibility to this data was one factor, but with the negative headlines, governance overreach, and meddling in day-to-day operations, the silence of those who care was also a factor.
The Coalition for Carolina will do all we can to shed a light on issues like this, but we need your help, your voice, your activism.  Those who love Carolina can reach out to the trustees, members of the Board of Governors, state legislators, and education policy makers to let them know how you feel about the policies and practices that are hurting the university.   As long as there is no pushback, the problems will continue. Silence won't save Carolina.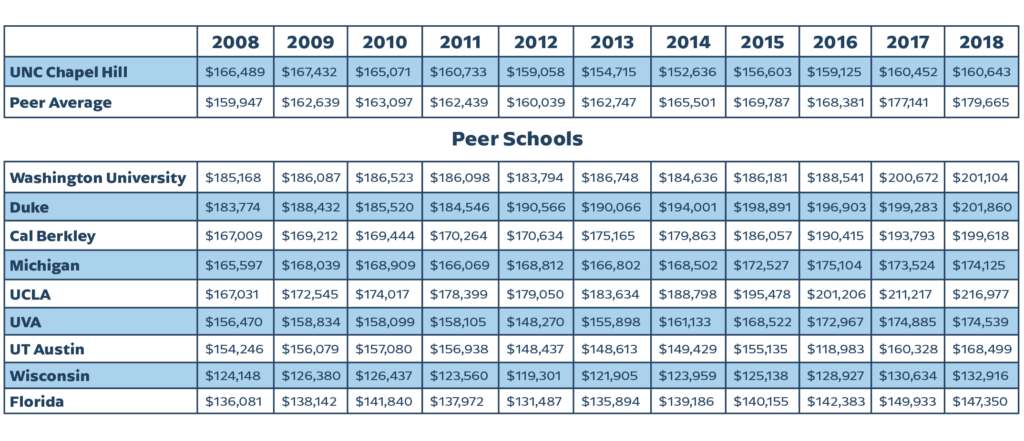 The state has the resources to address faculty salaries and underfunding of public education in general.  See the related news below:
NC Gov. Cooper proposes more raises for state employees and teachers:
"North Carolina Gov. Roy Cooper called for Medicaid expansion and more money for state employees and teachers this year in his budget proposal ahead of the legislature's spring session.
The state passed a two-year budget in 2021, but the General Assembly may pass additional spending bills during its short session, which begins on May 18.
The Republican-controlled legislature is unlikely to model those bills on the Democratic governor's recommendation, but they will have to negotiate with Cooper to avoid a veto of their priorities.
Cooper presented his proposal to reporters Wednesday afternoon with State Budget Director Charlie Perusse."
NC Republicans are currently considering state employee and teacher raises, tax cuts this session – Reach out and let them know you are in favor of this funding: 
"The first signs of the Republican-majority General Assembly and Democratic Gov. Roy Cooper agreeing on something this year sprang forth on Wednesday: Raises for state employees and teachers.
What isn't clear yet: how much they might be.
House Speaker Tim Moore told reporters on Wednesday, the first day of the legislative session, that House Republicans want to look at "some increases" for state employees and teachers.
While the state budget is passed every two years, smaller budget bills in between can adjust spending. Republicans are looking at both money for employees and some sort of possible tax relief, Moore said."
Higher Ed Works calls on state leaders to use a $6.2 billion surplus to "Make education a priority again".
"RALEIGH (May 18, 2022) – As the NC General Assembly reconvenes today with a $6.2 billion state budget surplus, it's time to make education a priority again in North Carolina.
Officials announced last week that the state will take in $4.24 billion more than projected in the budget year that ends June 30 – a 15% increase. And they revised revenue projections for the budget year that begins July 1 upward by $1.96 billion, or nearly 7%.1
Meanwhile, North Carolina ranks 34th among the states in average teacher pay and 41st in K-12 per-pupil expenditures.2 Community college faculty are paid even worse. Turnover among faculty and staff at UNC System campuses has spiked dramatically in the past year.3
And inflation continues with an 8.5% increase in prices in the past year, devouring the 2.5% raises state workers received last year.4"